Particle Size and Shape Analysis to Optimize Electrode Coating and Improve Battery Performance
Dr. Umesh Tiwari, Malvern Panalytical
Particle size and shape influence powder/slurry rheology, which in turn governs the quality of electrode coating. In addition, the particle size has a direct bearing on the energy and power density of a battery cell, making it a critical parameter to measure and control.
May 10:
Focus on Batteries
Broadcast 1:
09:00 AM - 10:30 AM CEST
May 10:
Focus on Batteries
Broadcast 2:
05:00 PM - 06:30 PM CEST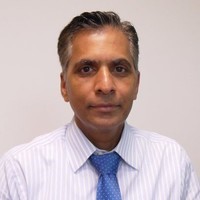 After completing his PhD in Physics at the JN University, Delhi, Dr. Umesh has worked both in government research institutes and industry relating to materials characterization using diffraction and imaging techniques. His main expertise is in the field of X-ray diffraction, with familiarity in other particle characterisation techniques like, XRF, laser diffraction and imaging. In his current role at Malvern Panalytical, he is responsible for the Battery and green hydrogen segments. Enabling business development, by aligning the Malvern Panalytical solutions to the QC and R&D of battery production and research, is one of his key responsibility.